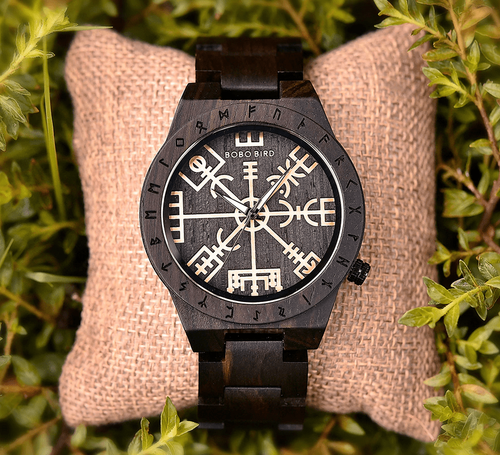 Protection , Wisdom , Success

Stunning unique wooden watch with Viking Talisman Vegvisier & rune letters design.



Two colors available ,

- Black Wood Watch

- Zebra Wood Watch





The watch is in the wooden box. Two types of boxes available.

Round box and square box.

Please select the color and the box type you want.

* Zebra wood watch with round box

* Black wood watch with round box

* Zebra wood watch with square box

* Black wood watch with square box



The manufacture focuses on the research and development of wooden watches.

Each watch is hand-made with natural dry wood and 100% genuine leather.

Various types of materials were used in the creative process, including teak, ebony, maple and even bamboo.

These trees are hand-selected by our professional craftsmen to ensure excellent quality.

Great for gift to people who are interested in Norse mythology.

This Vegvisir wooden watch is handcrafted and made of the finest materials.

The back of the watch can be custom engraved, making it a great gift for men and women.

Our wooden watches are shipped in a beautiful wooden giftbox.

and also include a free link removal tool.

This way you can adjust the strap to your size. If needed extra links can be added to the band.

The Vegvisir was designed by Vikings to protect warriors in battle and also give them courage and strength, assuring their victory against their enemies.

The symbol could also be used to give a person the fortitude to overcome their own fears.






Item information

Band Material Type: Wooden

Band Length: 20cm ( about 7.9 inch )

Style: Limited Edition

Clasp Type: Folding Clasp with Safety

Origin: Mainland China

Movement: Quartz

Case Material: Wooden

Case Thickness: 1.16 cm ( about 0.46 inch )

Boxes & Cases Material: Wood

Band Width: 2.28 cm

Feature: luminous hands

Dial Diameter: 4.49 cm ( about 1.77 inch )

Case Shape: Round

Dial Window Material Type: Hardlex

Item Type: Quartz Wristwatches

Special gift: Christmas, anniversary, valentine, birthday Gender: Unisex

Materials: Wooden

Package: 1pc wooden box and 1pc wood watch

Source: Vegvisir Handmade watch

Waterproof : 3 ATM Water Resistant as like raindrop




Viking Vegvisir


A vegvísir (Icelandic for 'sign post, wayfinder') is an Icelandic magical stave intended to help the bearer find their way through rough weather.

The symbol is attested in the Huld Manuscript, collected in Iceland by Geir Vigfusson in Akureyri in 1860, and does not have any earlier attestations.

A leaf of the manuscript provides an image of the vegvísir, gives its name, and, in prose, declares that "if this sign is carried, one will never lose one's way in storms or bad weather, even when the way is not known".

It has been claimed that it also features in the Galdrabók, a magical grimoire.

Although this latter location is denied and contested by Jackson Crawford.

Stephen E. Flowers lists the Vegvisir in his translation of the Galdrabók, but in a later publication cites it in "Isländische Zauberzeichen und Zauberbücher" by Ólafur Davíđsson rather than the Galdrabók.

It is also only claimed to be in the Huld manuscript by Daniel McCoy.

Tomáš Vlasatý claims that it is not only in the Huld manuscript but also in two other Icelandic grimoires, Galdrakver (designated Lbs 2917 a 4to and Lbs 4627 8vo) and has Christian roots.

The vegvísir is often confused to be a Viking symbol.

There is however no evidence of this, and the Huld Manuscript, where it is mentioned, was collected eight centuries after the end of the Viking Age.

The Vegvisir, also known as the runic compass or the Viking compass/Nordic compass made of eight Viking rune staves, is a symbol of protection and guidance believed to be used as a compass by Vikings.

The word vegvisir means 'wayfinder' and 'sign post' in Icelandic language.

Although it is commonly known as the Viking compass and associated by some people with the voyages Vikings made around the World during the Viking Age, there is quite a bit of a debate regarding the origin of the Vegvisir.

There are two sources mentioning the Vegvisir: the Huld Manuscript compiled by Geir Vigfusson in 1880 and The Galdrabok, another manuscript which is essentially a grimoire – 'a textbook for magic'.






Shipping for this item :

This item will be shipped from outside of USA and will be shipped within 2 to 3 business days from the date the order was placed.

The estimated delivery time is about 15 to 25 days to USA address, about 15 to 35 days to other countries by standard air mail shipping.

This item is FREE SHIPPING by standard air mail shipping .

Please select " International shipping " for the shipping option at the check out page.







The watch is in the wooden box. Two types of boxes available.

Round box and square box.

Please select the color and the box type you want.

* Zebra wood watch with round box

* Black wood watch with round box

* Zebra wood watch with square box

* Black wood watch with square box
---
home
Chinese Dragon
Jade Chinese Dragon
Ivory Carvings
Jade Collection
Chinese fortune Jade Jewelry
Chinese Wall Art
Asian Art-Craft
Asian fortune Vases
Mystic incense burners
Gods Of Wealth
Feng shui flying stars
Feng Shui
Feng Shui for Career
Feng Shui for Health
Feng Shui for Love
Feng Shui for Protection
Feng Shui for Success
Feng Shui for Wealth
Feng Shui for Family
Feng Shui Crystal
Laughing Buddha
Quan Yin
Feng shui Links
Business links
Sitemap
customer ratings
Japanese feng shui tips
Red Jade Carvings
Bronze Statues/Sculptures
Red resin statues/ figurines
Tea Sets
Cloisonne
Feng shui coins
Asian Dolls
Chinese Wood Boxes
Chinese mirrors
Chopsticks
Gemstone World globes
Horse Sculptures
New Arrivals
Bracelets
Pendants / Necklaces
Earrings
Bangles
---
Testimonial



Hi Keiko,

I received the beautiful brass dragons, bronze dragon incense burner and Kuan Yin. They are absolutely beautiful. I paid almost double for a smaller brass dragon from a different company that looks almost childish next to yours.

It is very obvious the quality of this artwork is far superior and the energy in my house feels like it has lifted. The small dragon you included as a gift is much nicer than I expected, thank you very much! I will enjoy these for many years, many thanks.

I look forward to ordering my Christmas presents from you.

Dabbie.L , CT



read more testimonials




---
Our Top 10 seller items - 2022


1. Angel Crystal Tuner Folk 4096 HZ - Powerful purification tool



2. Beautiful Natural Yellow Jade Pi Yao Dragon Statue



3. Brass God of wealth " Tsai Shen Yeh " Statue 8.8 inch tall



4. Success symbol -
Large Copper Brass Chinese dragon statue 13 " L



5. Feng shui pair of Brass Pi Yao(Pixiu ) Statues 4.7 inch



6. Feng Shui for Love - Phoenix and Dragon carved
Mystic Jade Ball



7. Exquisite Ivory Fruit Carving Goddess of Compassion
Kwan yin Statue 8 inch



8. Mystic happiness Green Jade Dragon & Phoenix Puzzle Ball 4 inch



9. Gorgeous Ivory Fruit Standing Kwan yin
with dragon statue 6.7 inch



10. Chinese art scroll painting Phoenix design 140cm X 45cm






---
We are specializing in finest quality good luck Feng Shui items, Chinese figurines, Asian decor, Asian Vases, Asian paints, Laughing Buddha, Quan Yin Statues, Feng Shui Turtle Dragons, Feng Shui Crystals, Feng Shui Coins, Feng Shui 3 legs money frogs, Feng Shui Foo Dogs, Chinese Wise Men Statues, Animal zodiac items, Feng Shui Globes, made of Jade, Bronze, Precious gemstones (Tiger Eyes, Rose Quartz) ,Cloisonné, Mammoth Ivory for Success, Wealth ,Career, Love, Health, Protection, Long life and family.


Most of our Asian decor are hand crafted and finished by Chinese and Asian artists.
Each item is unique, no two will be exactly alike. Therefore you will not find another item exactly like yours in somebody else's collection. When you receive your item it will be slightly different than the item in the photograph in the catalog.

This is due to individual styles from one artist to the next, or differences in pigments used from one day to the next in the shop that made the item.

Our bronze items are made in the old way - the lost wax method - and they are all "antique looking" .
All our products are cleansed of negative energy and empowered with positive Sheng Ch'i.
Thank you for visiting !
Mercury Treasures
Feng shui store - Chinese figurine - Asian decor
http://www.mercurytreasures.com
Have a Question about our products or our policy ?
Email us
1-520-498-9901
Feng shui decorating - for art paintings
How to decorate art paintings in feng shui.
What kind of paintings bring you happiness ?
copyright &copy 2004 - 2023 mercurytreasures.com All rights reserved