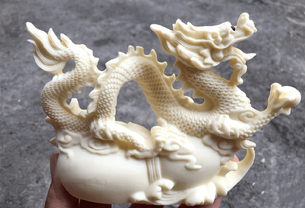 Feng shui for success, power, good luck, protection

This is an exquisitely carved Ivory fruit Chinese Dragon Holding a Ball statue.

It's measuring about 5.5 inches long ( about 14cm ), 3.9 inches tall ( about 10 cm ), 1.9 inches wide ( about 5cm ) Handcrafted. Very detailed.

Very beautiful.

It's an eye-catching statue , very beautiful.

Simple and unique shape, bright and lively color.

The statue is light that it can be displayed anywhere in the home or office ( except bathroom, kitchen and on the floor ).

Carved and polished, the sculpture has good surface finish and smooth texture.

Vegetable ivory or tagua nut is a product made from the very hard white endosperm of the seeds of certain palm trees.

Vegetable ivory has been used extensively to make dice, knife handles, and chess pieces. It is a very hard and dense material. Similar to stone, it is too hard to carve with a knife but instead requires hacksaws and files.

Limited quantities !



Material: Ivory fruit ( Ivory nuts/ ivory vegetable )

Size: 10cm H X 14L X 5cm W



Symbols of Chinese dragon :

success, power, wisdom, yang energy, protection

In feng shui and Chinese folklore, Chinese dragon is the most important and powerful symbol for success , power, and protection.

Chinese business people often display images of dragons in their offices or stores to increase their business success.

Also they display a dragon statue near the entrance door ( in the right side seeing from inside out.) for protection.

Great to display the dragon in the East side of your desk to bring your career & education luck & success.

It's believed that Chinese dragons are filled with yang energy and it increase your energy level.



Shipping for this item :

This item will be shipped from outside of USA.

The processing time is about 2 to 4 business days.

The estimated delivery time is about 15 to 28 days to USA and about 15 to 35 days to other countries by standard air mail shipping.

This item is FREE shipping by standard air mail shipping.

Please select " international shipping " for the shipping option at the check out page.



If you prefer faster shipping option, we have EMS shipping options available.

* EMS shipping :

$33 (USD) to USA ,

$38 (USD) to Canada,

$38 (USD) to Europe,

$28 (USD) to Australia and New Zealand.

Estimated delivery time is about 12 to 15 business days.

Please let us know if you prefer EMS when placing your order.

Please select " international shipping " for the shipping option which shows the shipping fee $0.

If you prefer EMS shipping, the shipping fee will be billed separately later.



For paypal payment customers,

We will send you the invoice for the shipping fee ( EMS ) after receiving the order.

Please leave a note if you prefer to ship by EMS shipping.



For Australian Customers

Since July 1st ' 2018, The Australian Government started collecting GST ( Goods and Service Tax ) of 10% on taxable imports .

and our manufacture is required by law to collect such GST and remit to Australian Taxation office.

For this reason, all the orders from Australia will be charged the GST 10% from the total amount.








---
home
Chinese Dragon
Jade Chinese Dragon
Ivory Carvings
Jade Collection
Chinese fortune Jade Jewelry
Chinese Wall Art
Asian Art-Craft
Asian fortune Vases
Mystic incense burners
Gods Of Wealth
Feng shui flying stars
Feng Shui
Feng Shui for Career
Feng Shui for Health
Feng Shui for Love
Feng Shui for Protection
Feng Shui for Success
Feng Shui for Wealth
Feng Shui for Family
Feng Shui Crystal
Laughing Buddha
Quan Yin
Feng shui Links
Business links
Sitemap
customer ratings
Japanese feng shui tips
Red Jade Carvings
Bronze Statues/Sculptures
Red resin statues/ figurines
Tea Sets
Cloisonne
Feng shui coins
Asian Dolls
Chinese Wood Boxes
Chinese mirrors
Chopsticks
Gemstone World globes
Horse Sculptures
New Arrivals
Bracelets
Pendants / Necklaces
Earrings
Bangles
---
Testimonial



Hi Keiko,

I received the beautiful brass dragons, bronze dragon incense burner and Kuan Yin. They are absolutely beautiful. I paid almost double for a smaller brass dragon from a different company that looks almost childish next to yours.

It is very obvious the quality of this artwork is far superior and the energy in my house feels like it has lifted. The small dragon you included as a gift is much nicer than I expected, thank you very much! I will enjoy these for many years, many thanks.

I look forward to ordering my Christmas presents from you.

Dabbie.L , CT



read more testimonials




---
Our Top 10 seller items - 2022


1. Angel Crystal Tuner Folk 4096 HZ - Powerful purification tool



2. Beautiful Natural Yellow Jade Pi Yao Dragon Statue



3. Brass God of wealth " Tsai Shen Yeh " Statue 8.8 inch tall



4. Success symbol -
Large Copper Brass Chinese dragon statue 13 " L



5. Feng shui pair of Brass Pi Yao(Pixiu ) Statues 4.7 inch



6. Feng Shui for Love - Phoenix and Dragon carved
Mystic Jade Ball



7. Exquisite Ivory Fruit Carving Goddess of Compassion
Kwan yin Statue 8 inch



8. Mystic happiness Green Jade Dragon & Phoenix Puzzle Ball 4 inch



9. Gorgeous Ivory Fruit Standing Kwan yin
with dragon statue 6.7 inch



10. Chinese art scroll painting Phoenix design 140cm X 45cm






---
We are specializing in finest quality good luck Feng Shui items, Chinese figurines, Asian decor, Asian Vases, Asian paints, Laughing Buddha, Quan Yin Statues, Feng Shui Turtle Dragons, Feng Shui Crystals, Feng Shui Coins, Feng Shui 3 legs money frogs, Feng Shui Foo Dogs, Chinese Wise Men Statues, Animal zodiac items, Feng Shui Globes, made of Jade, Bronze, Precious gemstones (Tiger Eyes, Rose Quartz) ,Cloisonné, Mammoth Ivory for Success, Wealth ,Career, Love, Health, Protection, Long life and family.


Most of our Asian decor are hand crafted and finished by Chinese and Asian artists.
Each item is unique, no two will be exactly alike. Therefore you will not find another item exactly like yours in somebody else's collection. When you receive your item it will be slightly different than the item in the photograph in the catalog.

This is due to individual styles from one artist to the next, or differences in pigments used from one day to the next in the shop that made the item.

Our bronze items are made in the old way - the lost wax method - and they are all "antique looking" .
All our products are cleansed of negative energy and empowered with positive Sheng Ch'i.
Thank you for visiting !
Mercury Treasures
Feng shui store - Chinese figurine - Asian decor
http://www.mercurytreasures.com
Have a Question about our products or our policy ?
Email us
1-520-498-9901
Feng shui decorating - for art paintings
How to decorate art paintings in feng shui.
What kind of paintings bring you happiness ?
copyright &copy 2004 - 2023 mercurytreasures.com All rights reserved