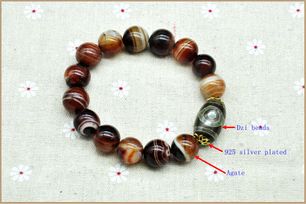 For Good health. longevity, protection, good luck

This is a beautiful lucky amulets, natural 3 eyed Dzi bead with 14 mm Agate beads bracelet.

The agate beads measure 14 mm ( each bead ) and it weight about 65g.

The length of the bracelet is about 22 cm ( about 8.6 inch).

The Price is for one 3 eyed Dzi bead with 14 mm agate beads bracelet.

3 eyed Dzi bead : Success, wealth, long life, full of health and fortunate opportunities.




Dzi Bead

3 eyed Dzi bead : It represents the three stars of luck, happiness, honor, and longevity. It is the bead of wealth and health to bring continuous fortune.

The dZi bead is one of the most mysterious of all the beads known to us today.

It is unclear as to its exact origin, time of manufacture, or even how long they have been an important part of Tibetan culture.

The land they are associated with, Tibet, is a mystical land in itself.

What is known is that these shiny stone beads patterned with mystical eyes and stripes are now of the most treasured beads in the world.

It is fitting that the meaning of the word "dZi" in Tibetan is "shine, brightness, clearness, splendor.

It was thought that this would add to the talisman power of the statues. The beads themselves were elemental in color: red coral as blood, fire and light, turquoise beads as water, sky and air, and amber to represent earth.






Stories About The Mystic Agate dZi Beads
Tibetans believe that the dZi are precious jewels of supernatural origin.

There are many different stories and beliefs surrounding the dZi, all describing their existence as non-man-made artifacts.

Their origin is said to be from ancient times when semi-gods wore them as ornaments.

Whenever the dZi became blemished slightly, they were thrown to the earth.

This might be an attempt to explain why the beads are never found in perfect condition.

Once they fell to earth, they manifested as insects. There are several stories regarding the dZi as insects.

The stories discuss how the dZi were once insects that moved like worms in the earth, but had become petrified, usually by the touch of human hand.

One story involves a man who saw one these insects high in the mountains and threw his hat over it to capture it.

When he removed the hat, the insect had become petrified and in its place lay a dZi.

Another set of the insect stories relate that they were encountered in the high mountains by someone with especially good karma who managed to catch them.

But in coming into contact with the defilement of human touch they had become petrified. Sometimes these insect dZi are found in cattle dung or the horns of slaughtered animals.

This insect theory is widespread and is often cited to explain why a great number of dZi are often found at once, forming a kind of "nest".

Some believe that even after the beads have been unearthed they will continue to move for a little while.

One legend from Ngari, Western Tibet says that the dZi originated from a mountain near Rudok.

In ancient times they were said to flow down its slopes like streams.

One day a wicked woman cast the evil eye upon the mountain and the flow immediately stopped.

To this day, the characteristic black and white stripes of the dZi are seen from where they once issued.

A recent story that has circulated about the dZi, which has become a kind of "urban legend": there was a car accident in Taipei, Taiwan, and all of the people were killed except for the wearer of a dZi bead.

* All of these stories confirm the beliefs that the dZi are magical, and will protect the wearer from harm , both from sickness and from evil spirits.

* The dZi are even considered to be of medicinal value. Traditional medicine in Tibet for epilepsy includes grinding up a previously unbroken dZi to mix with other magical substances to make a pill for the sufferer.

An unbroken dZi is used for this because it is believed that once a dZi is broken, its power has been used up for the protective purposes it was meant to serve.

The wearer has already been saved from attack at this time. DZi beads are mined high in the Himalaya.

Its composition is actually agate, but with magnetic field particularly stronger.

* It can strengthen your physical constitution. Medical research had proven that you'll start to feel thirsty when you start to wear dZi bead initially, which means that your metabolism and blood circulation are speeding up.

* Or it may be detecting something negative that it is helping you to put burn away. But after three days, anyone would have adapted to it.

* The bead will keep a person healthy and even help to lose weight.

For those who are familiar with crystals, we know that agate is very powerful to expel off negative energies and nourishes your good fortune luck.

On enhancement of health, it helps relieve tiredness, improve blood circulation and nourishes the root chakra.

It would stimulate analytical capabilities and enhance your inherent talents.





Agate
Agate is sometimes called the Firestone and will encourage good luck to flow to you.

It promotes prosperity by making you more energetic and sociable and can greatly benefit business and personal matters too.

Symbols of Agate : Protection, Strength, Harmony






Shipping for this item :

This item will be shipped from China.

The processing time is about 3 to 5 days. Estimated delivery time to USA will be about 11 to 25 business days, for other countries, it will be about 15 to 35 business days days by standard air mail shipping.

Please select " Regular shipping from China " for the shipping option at the check out page.

The shipping fee for this item is $6.50(USD).

If you are in a hurry, there are another shipping options below ,

* EMS shipping :( estimated delivery time 8 to 14 days ) shipping fee: $24 (USD) ( To USA and Canada ), $20 (USD) to Australia and New Zealand, $ 25(USD) to Europe. Please send us an email right after you placed your order if you prefer to ship by EMS.

The shipping fee will be billed separately later.





Sorry, this item is no longer available!




---
home
Chinese Dragon
Jade Chinese Dragon
Ivory Carvings
Jade Collection
Chinese fortune Jade Jewelry
Chinese Wall Art
Asian Art-Craft
Asian fortune Vases
Mystic incense burners
Gods Of Wealth
Feng shui flying stars
Feng Shui
Feng Shui for Career
Feng Shui for Health
Feng Shui for Love
Feng Shui for Protection
Feng Shui for Success
Feng Shui for Wealth
Feng Shui for Family
Feng Shui Crystal
Laughing Buddha
Quan Yin
Feng shui Links
Business links
Sitemap
customer ratings
Japanese feng shui tips
Red Jade Carvings
Bronze Statues/Sculptures
Red resin statues/ figurines
Tea Sets
Cloisonne
Feng shui coins
Asian Dolls
Chinese Wood Boxes
Chinese mirrors
Chopsticks
Gemstone World globes
Horse Sculptures
New Arrivals
Bracelets
Pendants / Necklaces
Earrings
Bangles
---
Testimonial



Hi Keiko,

I received the beautiful brass dragons, bronze dragon incense burner and Kuan Yin. They are absolutely beautiful. I paid almost double for a smaller brass dragon from a different company that looks almost childish next to yours.

It is very obvious the quality of this artwork is far superior and the energy in my house feels like it has lifted. The small dragon you included as a gift is much nicer than I expected, thank you very much! I will enjoy these for many years, many thanks.

I look forward to ordering my Christmas presents from you.

Dabbie.L , CT



read more testimonials




---
Our Top 10 seller items - 2022


1. Angel Crystal Tuner Folk 4096 HZ - Powerful purification tool



2. Beautiful Natural Yellow Jade Pi Yao Dragon Statue



3. Brass God of wealth " Tsai Shen Yeh " Statue 8.8 inch tall



4. Success symbol -
Large Copper Brass Chinese dragon statue 13 " L



5. Feng shui pair of Brass Pi Yao(Pixiu ) Statues 4.7 inch



6. Feng Shui for Love - Phoenix and Dragon carved
Mystic Jade Ball



7. Exquisite Ivory Fruit Carving Goddess of Compassion
Kwan yin Statue 8 inch



8. Mystic happiness Green Jade Dragon & Phoenix Puzzle Ball 4 inch



9. Gorgeous Ivory Fruit Standing Kwan yin
with dragon statue 6.7 inch



10. Chinese art scroll painting Phoenix design 140cm X 45cm






---
We are specializing in finest quality good luck Feng Shui items, Chinese figurines, Asian decor, Asian Vases, Asian paints, Laughing Buddha, Quan Yin Statues, Feng Shui Turtle Dragons, Feng Shui Crystals, Feng Shui Coins, Feng Shui 3 legs money frogs, Feng Shui Foo Dogs, Chinese Wise Men Statues, Animal zodiac items, Feng Shui Globes, made of Jade, Bronze, Precious gemstones (Tiger Eyes, Rose Quartz) ,Cloisonné, Mammoth Ivory for Success, Wealth ,Career, Love, Health, Protection, Long life and family.


Most of our Asian decor are hand crafted and finished by Chinese and Asian artists.
Each item is unique, no two will be exactly alike. Therefore you will not find another item exactly like yours in somebody else's collection. When you receive your item it will be slightly different than the item in the photograph in the catalog.

This is due to individual styles from one artist to the next, or differences in pigments used from one day to the next in the shop that made the item.

Our bronze items are made in the old way - the lost wax method - and they are all "antique looking" .
All our products are cleansed of negative energy and empowered with positive Sheng Ch'i.
Thank you for visiting !
Mercury Treasures
Feng shui store - Chinese figurine - Asian decor
http://www.mercurytreasures.com
Have a Question about our products or our policy ?
Email us
1-520-498-9901
Feng shui decorating - for art paintings
How to decorate art paintings in feng shui.
What kind of paintings bring you happiness ?
copyright &copy 2004 - 2023 mercurytreasures.com All rights reserved